About Us - Serving Richmond Since 1997

Summit Computer Systems, Inc. was originally conceived as a technology support organization and hardware reseller. We saw the need for non-proprietary computer systems that were easy and inexpensive to upgrade so we started to manufacture our own line of computers. Summit continued to evolve by providing a turnkey solution to our partners. Today, Summit Computer Systems provides technical support, builds competitively priced computer systems, and sells components and peripherals. MySummit.net supplies hosting for websites and email and Summit Design Services provides full service website design and development as well as video production for the web. We are your Total Technology Service Provider!
Our Qualifications
Summit has certifications and partnerships with many national technology companies.
Summit is a Cisco SMB Select Partner with an SMB Select Account Manager and Engineer on staff. This certification allows us to get special discounts from Cisco so we can pass savings well below the Suggested Retail Price on to our customers. It also gives us an exclusive track to the Cisco in-house engineers.
We are also Wayne and Fayette County's only retailer for BridgeMAXX Wireless Broadband internet. The lowest priced broadband internet offering in the area. Just as fast as caeel and DSL, wireless internet lets you take your internet wherever you are in your service area. Go Fast, Go Easy, Go Anywhere!
In early 2007 Summit was granted a Toshiba Authorized Service Provider designation. This designation enhances our Toshiba Preferred Partner status to enable us to provide a complete mobile computing solution for our partners.
Summit has gained a reputation in our service area for competitive pricing, exceptional service levels, keeping abreast of breaking technology and being fair and honest with our business partners. We are proud to have served our area's computer users for over 10 years, and humble and grateful to have the trust of those users who call on us every day for their computer needs. Read what our clients are saying.
Our Mission
Summit Computer Systems, Incorporated has one simple philosophy:
To provide extraordinary service and manufacture quality products, warranty our products and guarantee our work, be fair and truthful with our business partners, and achieve success equal to our work.
Summit Computer Systems was founded in 1997, with the goal of providing the best possible product and service for the needs of our business partners. We have established a place in our community as the best choice for all your computer systems needs. Summit's goal is to establish strong, trusting relationships within our community with personal service, unique ability, creativity, and desire to surpass others in our commitment to our partners and our community.
We look to the future for the success of our partners. Summit Computer Systems operates under one basic tenet of business – one computer at a time, one system upgrade at a time, one web project at a time – to ensure a solid foundation for sound business relationships. Quality products and personal service at fair and reasonable prices make Summit the clear choice.
Community Service
Summit Computer Systems and its employees are involved in many areas of our community. Giving back to the community is important to us in our role as a corporate citizen. Our employees serve on boards and committees for not-for-profits and community organizations and give of their time and resources to improve the quality of life in our community.
Summit Computer Systems, Inc. believes that our community is a great place to live and work, and we strongly endorse and practice patronizing local businesses to strengthen and grow our local economy.
Community Support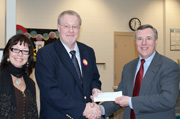 Mr. Stephen Borchers of the Reid Foundation accepts a $1,000 check for Lemonade Day from Michael Dickerson, President, Summit Computer Systems, Inc.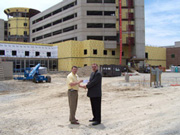 Mr. Jason Troutwine of the Reid Foundation accepts a pledge of $20,000 for The New Reid Hospital from Michael Dickerson, President, Summit Computer Systems, Inc.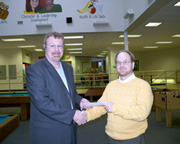 Mr. Bruce Daggy, Executive Director, Boys and Girls Clubs of Wayne County, accepts a $5000 check for the new Jeffers Unit from Michael Dickerson, President, Summit Computer Systems, Inc.