Our Design Services...bringing your advertising efforts into the
21st century.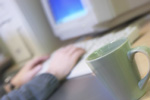 In today's world of business and communication, businesses can't just sit back and wait for customers to acknowledge your presence. You have to make your presence known. The business world has become fast and savvy. To compete, businesses must meet the challenge head on. Like other modes of advertising, presence is everything. Your web presence is just as important as your physical office or store. Customers expect to find you online.
Our Services include:
From hosting to design, Summit Design Services is your turnkey answer. Take a look at our portfolio and then CALL US to find out how easy and inexpensive creating the perfect site can be.